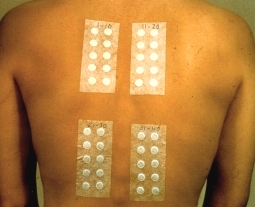 Finn Chamber® is a patch test device which provides good occlusion because of the chamber design. The 8 mm inner diameter provides a 50 mm² area and about 20 µl volume. Finn Chambers are available mounted on Scanpor® tape, Actavis Norway AS, Norgesplaster, with protective paper backing which is easily peeled away. The chambers are made of aluminium. Polypropylene coated chambers (8, 12, 18 mm) and 12 mm aluminium chambers are available for special purposes.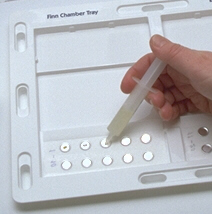 Finn Chambers on Scanpor are available in strips of 10 (2x5), 5 (1x5) and 1 chambers. The strips of 10 chambers are practical when testing with a large number of substances, e.g. with routine tests. Smaller strips are suitable for small test series and individual tests.


Most commercial test substances are suitable for Finn Chambers. The substances incorporated in a semisolid base are applied directly into the chamber. For liquids a filter paper disc is placed in the chamber and saturated with the liquid.
Finn Chamber Tray keeps the test strips in good order when applying the test substances. The trays can be piled on each other, which saves place on the desk.


The tests are applied preferably on the upper back. When removing the tests after one or two days' exposure the occlusion is verified by a ring-shaped depression around each test.


For locating the test sites a special device, Reading Plate, is recommended. Reading Plate can also be used when removing the tests.
Indications for Finn Chambers
Diagnosis of
- contact sensitivity
- photocontact sensitivity
Experimental dermatology

Finn Chamber products are intended for use by or under the supervision of a physician.


---
Products
Package

Finn Chambers on Scanpor
Standard (8 mm)
strips of 10 chambers (2x5)

25x10 chs

100x10 chs

strips of 5 chambers (1x5)

50x5 chs

strips of 1 chamber

150x1 chs

Large (12 mm)*
strips of 1 chamber

200x1 chs



Finn Chambers
Extra Large (18 mm)*

100 chs




Package

Filter paper discs
Standard (7.5 mm)

200 discs

1000 discs

Large (11 mm)

200 discs

Extra Large (18 mm)

100 discs



Reading Plate**

1 plate



Finn Chamber Tray**

5 trays
* for special experimental use
**for Finn Chambers on Scanpor (standard)
---
Testing with Finn Chambers is
Reliable
tight occlusion due to the special design of the chamber
the validity of occlusion is indicated by a ring-shaped depression around the individual test sites at the time of removal
good fixing of the tests onto the skin since the size of the chamber is small relative to the adhesive tape
Kind to the skin
small reactions due to the small size of the chamber save the patient from unnecessary discomfort
minimal skin irritation and sweat retention because of the use of the porous tape
sensitivity reactions to aluminium and Scanpor are rare
Economical
the method is convenient and time saving
due to the small testing area, a large number of test substances can be applied at one time
only small amounts of test substances are required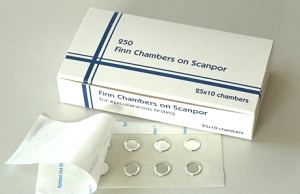 ---
Updated 3 February 2006.